EBUK Clayfest in Errol, Scotland: 8th - 13th June 2015

7th July 2015

Last month, we were involved in the UK's first week-long dedicated earth building festival - Clayfest. It took place in the village of Errol in Scotland, not too far from Dundee and Perth - not exactly a typical conference or festival venue; but over 40 historic buildings here are built from earth.

Organised by Earth Building UK (EBUK), people from 18 countries attended over 60 events. They came from places as far flung as Malawi, Botswana, Arizona, Slovakia, Brazil, Argentina, Cyprus, Iceland and Sligo! And they learned how to ram earth, build with turf, plaster with clay, sculpt with cob and much, much more besides.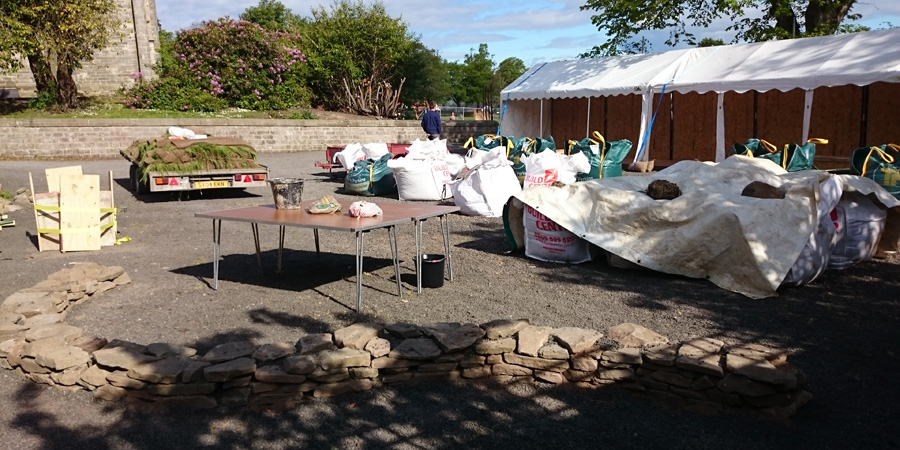 The photo above shows the calm before the storm. Bill and Athena Steen, of the Canelo Project, got the Rolls Royce service with a tent for their plastering workshops. We thought they would need it for the rain; it turned out they needed it to keep out of the sun. The turf builders' sods are laid out on the flat-bed trailer, prepared by the wild men .... Joel and Mark. From Rammed Earth Consulting (and a project officer at EBUK), Rowland's formwork is set up, ready to go. And in the foreground is my serpentine wall, the base for our cob course. All of the one tonne bags contain the sub-soil and sand, the raw ingredients for our workshops.
On Day 1, we started with our soil sample tests, foot-mixing and hand-building ... plenty of really tactile work so that everyone got to grips with the material. Cob (and any form of earth building) is very intuitive. With a bit of practice, you can feel when a mix is good.
| | | | | |
| --- | --- | --- | --- | --- |
| | | | | |
| | | | | |
| --- | --- | --- | --- | --- |
| | | | | |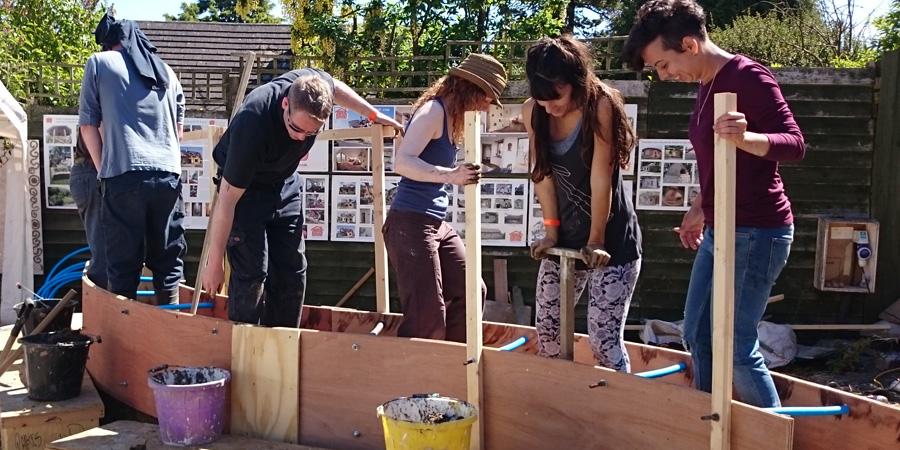 Using whackers, persuaders, cobbers' arms and some good old-fashioned stomping, the next lift went up in no time. An STV film crew paid us a visit, checking out what this hive of activity behind Errol Village Hall was all about and we made it on to the Scottish news for our 2 minutes of fame.
| | | |
| --- | --- | --- |
| | | |

It was amazing to get all of these people together in one place for one week. What was even better was that most of us were camping on site. So the conversations didn't stop at the end of the workshop ... but continued into the evening or over breakfast. There was time to really get to know people and that was very special.
| | | |
| --- | --- | --- |
| | | |
Above is the mass oven built by Johannes Riesterer and his team in just 3 days for one lucky villager in Errol. It is highly efficient system based on squeezing as much heat as possible out of the combusting gases and harnessing thermal mass storage. A 2 - 3 hour burn will provide heat for 24 hours.

Then it was time to wander around the site and see what some of the others had been up to. The turf boys had built an amazing wall. They used large, rhomboid-shaped sods as building blocks and thin sod runners as "mortar". The herring-bone pattern ensured they were wedged together. It looked like a Viking pyre. In fact, there was a campaign in the village to keep the wall, it was such an impressive structure.

Jem and Jules Cox led a sculptural clay and fibres workshop in the village park. This was the most free-form workshop at the festival. Everyone who participated loved it ... and found it compulsively addictive.
As well as construction techniques, there was also plenty of artistic exploration. The crazy bench created during Jem and Jules clay and fibres workshop was pretty bonkers. Athena Steen's sgraffito was stunning. There were also a series of art installations on a trail around Errol. Inspired by the concept of earth buildings melting back into the landscape, this site specific work of poetry and sculptural interventions was titled Un-Melting. Click on this link for more.

As if the workshops, the art installations, the pop-up demonstrations and the craic weren't enough, there was also the annual EBUK conference. I am delighted to say that my talk on the Culture of Earth Building in Ireland went down very well. I made them laugh, I even made them shed a few tears (and in a good way). I think the power of my talk came from the fact that I asked for contributions from everyone I could think of who had any kind of a connection to earth building in Ireland. The response was really quite overwhelming and people's generosity was humbling ... and I'm pretty sure it was that depth of feeling from all of those contributors which touched the audience's emotions. There will be more on this project to follow, as it has definitely grown legs.

After the conference, there was a céilí ... that was wild! When you put 18 nationalities who have been bonding over mud for a week in a room together with a live trad band ... well, it just can't go wrong, can it?! Bodies were getting spun and flung all over the place - craic of the highest order! When that madness all finshed up, we sat around singing and playing music from all of our countries until the wee hours.
So - a week of building with earth, learning from all those around us, being inspired, enjoying the sunshine. It was great. And one of the best things was having time ... to catch up with old earth building friends and to make new ones. I feel now that we can probably travel to quite a few corners of the world and there will be an open door for us, as long as we bring our muddy boots and are willing to muck in.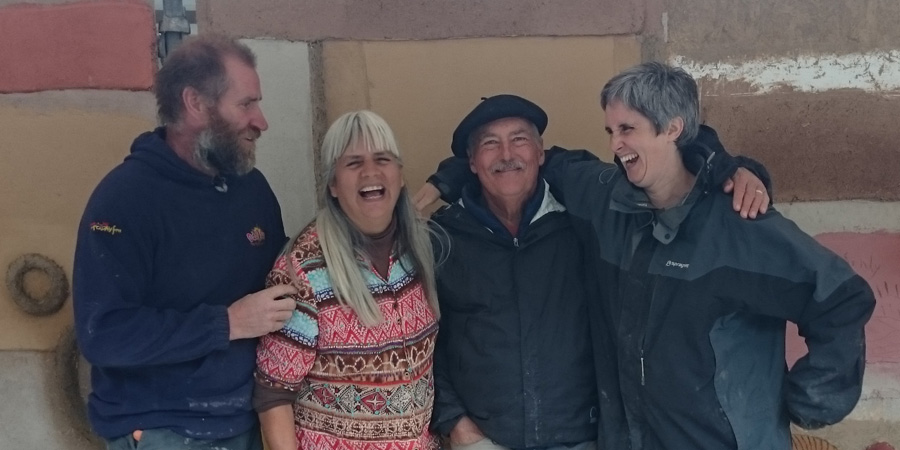 And then, just like that, the week was over. And the buzzing workshop space was suddenly empty and quiet; the rammed earth columns and the serpentine cob wall remaining after everyone was gone.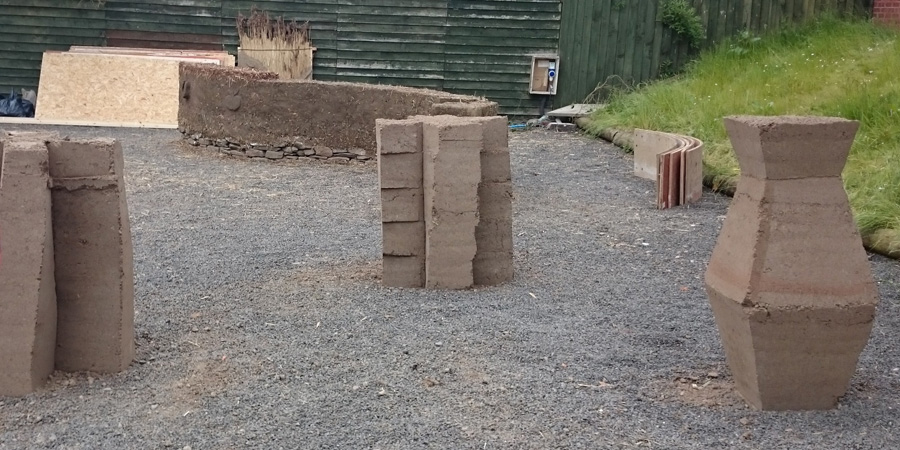 And then .... they were gone too. And there was no evidence of the amazing energy, creativity and activity that had taken place behind Errol Village Hall. It was just a car park again.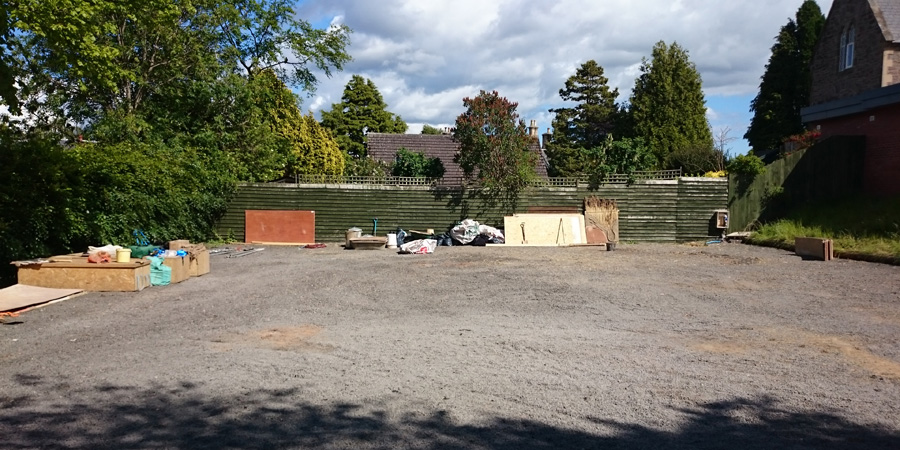 But if you stroll down to the park, there just might be a crazy bench-creature or two just waiting in the wings ........ maybe.
Copyright 2015, Féile Butler - Mud and Wood